All my life I have lived in Stratford, born and raised here in this beautiful city.  I feel that it is my turn to give back to this community in which I proudly call home as I raise my own family here.  "Many hands make light work"  I am a firm believer of this and if I can do any part in helping, I am so very proud to do so! 
The following Groups/Charities below are some of  the organizations in which I dedicate my volunteer time throughout the year.
United Way Perth-Huron C.I.A.C.
For the past four years I have proudly volunteered my time and services on the Capital Improvement Advisory Committee.  Ensuring the home/building of the United Way –  The UNITED CENTRE  where not‑for-profit and charitable organizations maximize their potential assisting citizens to have an  exceptional quality of life.
Stratford-Perth Humane Society

I was 1 of 11 volunteers who formed a Cabinet Committee and worked together to raise over $1,000,000.00 towards a new Animal Welfare Centre.  This new bright space will have spacious dog kennels, cat condos and bright open space for an Education Centre.  This much needed building will provide a pleasant experience both for visitors considering an adoption and for the animals seeking a home.  A proud community group!
"Yard Sale for the Cure" May 28, 2011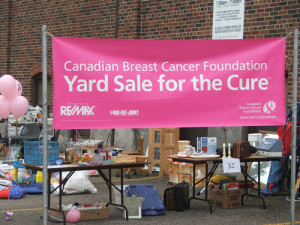 This is a nation-wide event sponsored solely by RE/MAX offices. We raised over $800 at our Stratford location for the Canadian Breast Cancer Foundation.
Heart and Stroke Foundation "BIG BIKE"

Every May our Stratford RE/MAX office jumps on the Big Bike for Heart and we pedal our way around town.  All of our team money raised goes towards the Heart & Stroke Foundation!
Road Side Clean-Up
Keeping Perth County Beautiful!  Through our RE/MAX office we adopted part of Line 32, a 2 kilometer stretch, myself and a group of dedicated volunteers keep this Road clean from garbage and debris.  Twice a year we meet here to do our part for our community!
Get the Community Information You Need
Do you want to learn more about a particular area or community? Are you having difficulties figuring out which neighbourhood would be perfect for you and your family? Are you moving out of the city and need information on communities in other parts of the area?
I can help.
As a real estate expert, I can provide you with important insights into a range of communities so you can make a more informed decision.
I can get you details on:
Type and style of homes.
Age of the community.
Local amenities such as schools, parks, community centres, etc.
Commuting routes and access to public transit.
Properties currently listed for sale.
General characteristics of the area.
The community you live in is just as important as the home you buy. That's why I'm committed to helping you make the right choice.